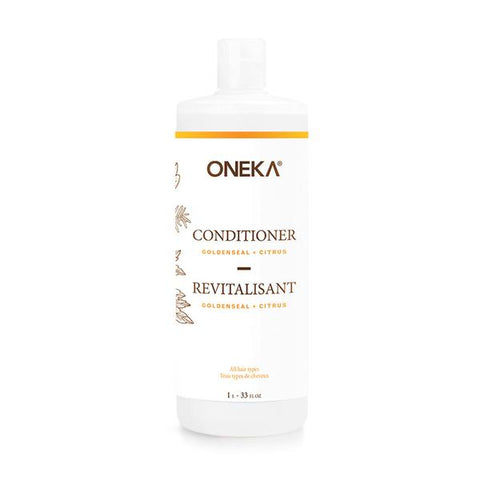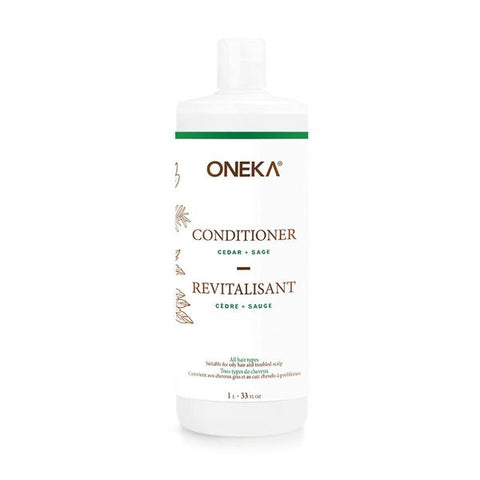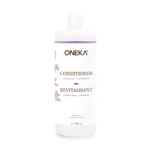 Oneka Conditioner
Oneka
Enjoy the soothing effect of this delicate hydrating formula. Surrender your hair to the benefits of sage, giving it glow and shine, and of horsetail, giving it strength. Oneka plants are carefully selected for their tonic, nourishing, and pH balancing properties.
Paraben and sulfate free, biodegradable formula, vegan, gluten free, PH balanced, certified B corp. 
How to use Oneka's conditioner.
The price of packaging you choose is automatically included in the product pricing. 
* Container deposit program for $2.50 a fully refundable deposit fee. Bring the empty container back for a full refund or keep it to refill or reuse as you wish.
** Or choose a 500 ml Oneka generic refillable plastic bottle for $2.50
Oneka Conidtioner (angelica & lavender)
Ingredients: Purified water, Organic blend of Calendula officinalis (Calendula), Arctium lappa (Burdock root), Salvia officinalis (Sage), Urtica dioica (Nettle leaves), Rosmarinus officinalis (Rosemary), Taraxacum officinale (Dandelion), Equisetum arvense (Horsetail), Angelica archangelica (Angelica), Hydrastis Canadensis (Goldenseal), Simmondsia Chinensis (Jojoba Oil), Hemp seed oil, Tocopheryl Acetate (Vitamin E), Oryza sativa (Rice Protein), Panthenol (Vitamin B5), Cetyl alcohol (plant-derived), Polyglyceryl-2 di polyhydroxy stearate, Essential oil of Lavandula angustifolia (Lavender), Caprylyl Glycol, Ethylhexylglycerin
Oneka Conditioner (cedar & sage)
Ingredients: Purified water, Organic blend of Calendula officinalis , Arctium lappa, Salvia officinalis , Urtica dioica, Rosmarinus officinalis, Taraxacum officinale , Equisetum arvense , Angelica archangelica, Hydrastis Canadensis, Simmondsia Chinensis, Cannabis Sativa , Tocopheryl Acetate, Oryza sativa , Panthenol, Cetyl alcohol, Polyglyceryl-2 di polyhydroxy stearate, Essential oil blend of Melaleuca alternifolia, Citrus reticulata, Thuja occidentalis , Betula alleghaniensis, Tsuga canadensis , Caprylyl Glycol, Ethylhexylglycerin
Oneka Conditioner (goldenseal & citrus)
Ingredients: Purified water, Organic blend of Calendula officinalis, Arctium lappa, Salvia officinalis, Urtica dioica, Rosmarinus officinalis, Taraxacum officinale, Equisetum arvense, Angelica archangelica, Hydrastis Canadensis, Simmondsia Chinensis, Cannabis Sativa, Tocopheryl Acetate, Oryza sativa, Panthenol, Cetyl alcohol, Polyglyceryl-2 di polyhydroxy stearate, Essential oil blend of Citrus paradisi, Citrus reticulata Blanco var tangerine and Cananga odorata, Caprylyl Glycol, Ethylhexylglycerin
Checking local availability