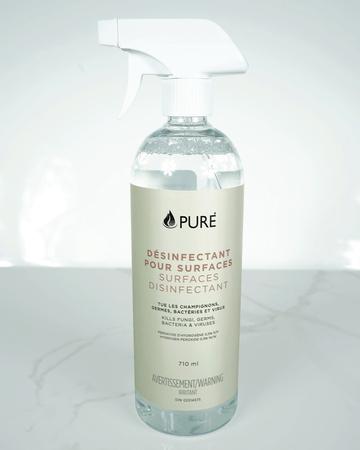 Surfaces Disinfectant
Pure
Pure surface disinfectant kills fungi, germs, bacteria and viruses. 
Use on all hard, non-porous surfaces such as countertops, floors, walls, wood, or any water washable surfaces. For domestic and industrial use, hospitals, schools, public buildings, offices, hotels, toilets, shower rooms.
APPROVED BY HEALTH CANADA
DIN: 02514575
The price of packaging you choose is automatically included in the product pricing. 
 * Container deposit program for $2.50 a fully refundable deposit fee. Bring the empty container back for a full refund or keep it to refill or reuse as you wish. 
Checking local availability
Ingredients
Aqua, hydrogen peroxide, laureth-7, dodecylbenzene sulfonic acid, propylene glycol, potassium sulfate
How to Use
For heavily soiled surfaces, clean prior to disinfecting. Spray on the surface and let stand for 10 min. Rinse and wipe with a clean, damp cloth. Any surface in contact with food or any surface or object reachable by children of oral exploration age must be thoroughly rinsed with potable water. Avoid contamination or contact with food during use and storage.